South Kingstown, RI Street Map
The most accurate South Kingstown town map available online.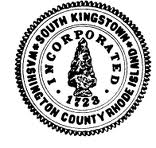 For decades now, residents and vistors have been coming to South Kingstown to enjoy the unspoiled beauty of our shoreline, the quiet tranquility of our rural farmlands, and the quaint charm of our historic villages. It is no surprise that our Town has grown at a faster pace than all other Rhode Island communities over the last twenty years - a fact that underscores the desirablity of our community as a place to live and work.
The Town has a unique combination of environmental and recreational attractions including more than 10 miles of breathtaking and undisturbed beaches and an extensive system of parks and play fields. Additionally, the Town has nearly 11,000 acres of protected open space, representing more than 30% of our 57 square mile land area - a number that has increased significantly over the past five years, ensuring that the pristine natural resources of South Kingstown will not be compromised in the future. Our Parks and Recreation Department, Senior Services Center, and Wastewater Treatment Facility all have received national recognition for the outstanding services they provide. The Town is also home to the University of Rhode Island which offers a wide array of educational and cultural programs and athletic events to our townspeople.
We are a community where residents take great pride in maintaining and preserving the quality of life we all enjoy. As can be readily imagined, this effort requires enthusiastic and active participation of dedicated elected and appointed officials as well as concerning citizens in addressing the issue of the day and planning for our future. We are fortunate to have a strong volunteer spirit among our residents whose creativity, talents, and energy contribute immensely to a vital and healthy community.
Visit town website: http://www.southkingstownri.com
---
---